We love local - Gin made in Aviemore and The Cairngorms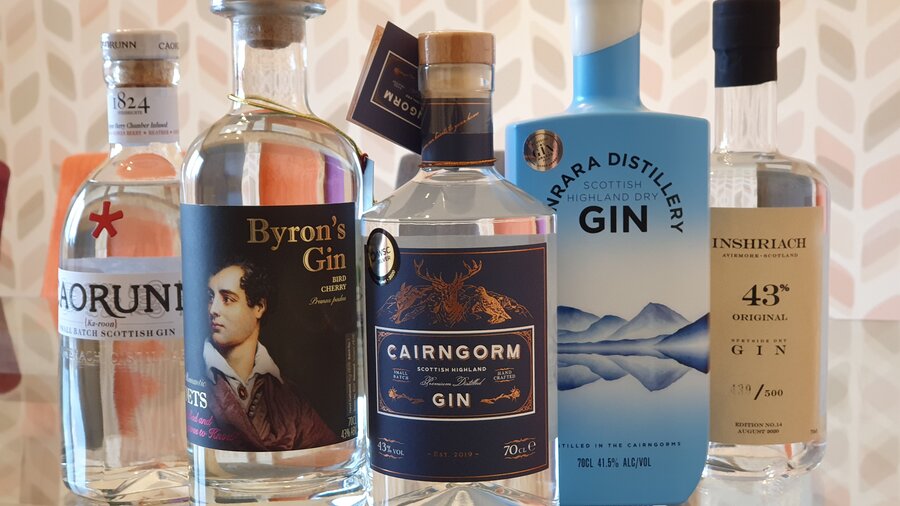 The team at igloo are big gin lovers, we love nothing more than trying new Scottish craft gins and some of our best ideas have probably come whilst drinking them. Nick used to run a bottle shop and even hosted some gin tasting nights along the way. We love that there is a growing number of small batch gins lovingly made by gin distilleries in the Cairngorms.
Cairngorm Gin
A very recent addition to the Highland gin scene, local Jack Smith is following a long line of family foodies by setting up The Cairngorm Gin Company. Jack's family have been catering for the Highlands for many years, and are very well known for it too. Jack also has the foodie bug and has worked alongside many Michelin star chefs, all experiences that have driven him to create Cairngorm Gin.
So what about the Gin. This is truly a small batch Highland Gin - produced in small batches of 70 bottles, all hand numbered - it uses 9 botanicals and the freshest water from the River Spey. It is very much a family affair with distillation, bottling and labelling done by Jack and his family.
Jack's best serve is a slice of apple, a blackberry and a raspberry but he firmly believes that it should be each to their own.
How did we drink ours - well in honour of the still called 'Ginger' after Jack's very popular and fun loving Grandad, we added a slice of ginger to ours and it was very well received, so we had to try it again. Slainte Ginger and Jack - we will definitely be keeping a bottle of Cairngorm Gin to hand.

Inshriach Gin
You might just bump into Walter, the owner of Inshriach Distillery, in and around Aviemore. Walter is described by people who know him as lovingly eccentric, and it is very clear that his community and tribe are held very dear. With the odd big party at his house and shed, Walter loves to invite folk around to show people what he does best.
Walter has converted his old shed into a distillery and bar, a little love goes a long way as he subsequently won Channel 4's shed of the year. By now you should be sold on the experience, so what about the Gin?
Inshriach uses botanicals from its own estate and describes itself as "Low impact, locally sourced, sustainable and endlessly renewable, not to mention extremely labour intensive" Their 43% Original Gin uses only 3 ingredients – Juniper, Rosehips and Douglas fir – all of which they harvest themselves.
We chose not to complicate this gin, so we too kept it simple with a slice of lime. A good call as our gin & tonic was tasty, sharp and very well received. If a Gin could taste Highland, then this is the one. Inshriach Gin also makes a thoughtful gift for friends who care about their foodie footprint, you don't get more homegrown than this - it really is one of the best Highland gins.

Kinrara Distillery Gin
This may sound funny, but you just never know the contacts you make in the oddest of places. Well, I first met the owner of Kinrara Gin in the steam room, small talk soon moved to business and of course to gin.
This gin hails from The Kinrara Estate that was founded by Lady Jane Gordon, one of the founders of the Gordon Highlanders, who when not hosting politicians in her Pall Mall home in London could be found throwing lavish parties on her estate just south of Aviemore. In fact the gorgeous Georigan house in the grounds of the estate had a sprung dance floor in every entertaining room to really get those parties swinging 1800s style.
Whilst plenty of gin was drunk on Kinrara estate throughout the years, the Kinrara distillery only opened its doors in 2018. Since opening, Kinrara distillery have produced a range of gins, including one to support the local Mountain Rescue team in Aviemore.
The team at Kinrara pride themselves on producing a high quality dry gin, juniper heavy with plenty of local botanicals used to flavour their flagship original gin. Rosehip and rowanberry are the primary botanicals and are picked on the 100 acre estate situated right next to the banks of the River Spey. The distillation process focuses on the production of a high quality end product with the distillers making decisions on the gin on a taste basis rather than a yield production basis. This way of distilling means that every bottle of Kinrara gin is of the best quality. We enjoyed our Kinrara gin with a twist of orange peel.

Byron Gin
The Speyside Distillery is set in a fantastic location just outside Kingussie. This hidden gem and small craft producer is a fantastic distillery with a global reputation for their range of Whisky.
As well as their diverse range of drams they also make Byron's Gin - although the name conjures up images of London high society in a bygone era this is a gin made in the highlands. It has been made to celebrate Lord Byron's connections and love of the Highlands - his time here inspired him to write some of his most famous poetry.
The gin combines traditional juniper flavours with local herbs and botanicals from the grounds of the distillery. The recipe was made in collaboration with Andy Amphlett of Botanical Society of Britain and Ireland - so this a gin with real history and pedigree.
Speyside Distillery now have a shop in Aviemore called The Snug, where you can try before you buy. Selling various versions of their gin and also their range of Malts, this is a great place for gin and whisky lovers to spend an afternoon. Book ahead for organised tastings and tours - the tour is well worth it.
We popped into The Snug to sample the Byron Bird Cherry ( then left with a bottle). We opted for a bit of a citrus twist with a nice slice of Pink Grapefruit - a very sophisticated combination.
Caorunn
Well established and with an excellent reputation as one of the best Scottish gins - this is a very well known Craft Gin. What many gin lovers don't realise is it is made here in The Cairngorms - just along the road at Balmenach. Caorunn has been available in local bars and restaurants for some time and it is the gin that many catch the gin bug from. If you wondering how to say it when ordering your G&T -Caorunn is pronounced Ka-roon.
Caorunn Gin is made from 6 local botanicals in a still at the Balmenach distillery - they have used their whisky distilling heritage to make this award winning gin. Despite being a well known brand that's growing popularity means it is now even available in supermarkets - it is still handcrafted by one man - Caorunns Gin Master, Simon Buley with the highest quality grain spirit and locally foraged botanicals.
We had to have it with the recommended slice of red apple. for those who love cocktails Caorunn lends itself perfectly into cocktails and there are some great recipes on their website. So if you are looking for a premium yet versatile Gin, Caorunn fits the bill.
Enter our competition for a chance to win all 5 of these Gins
To celebrate our launch we are giving away all 5 of these local craft gins - worth £200. These five gins will be perfect to enjoy over Christmas or if you are feeling generous they would make fantastic presents. To enter simply follow instructions below to sign up for our mailing list - this will not only give you a chance to win gin it will also keep you up to date on all things igloo - including new self catering properties, holiday ideas and special offers.