Best things to do in Aviemore with a baby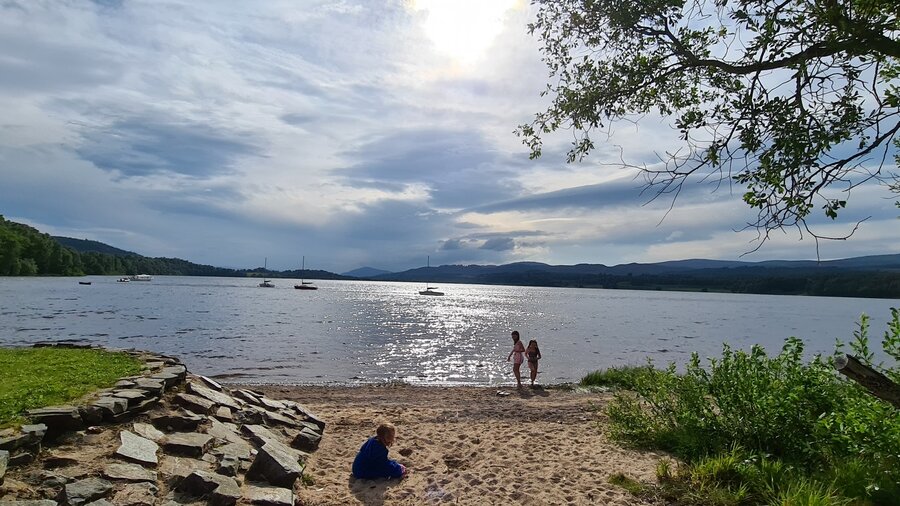 I have lived and brought up my family here in The Cairngorms National Park so know first hand that it really is a fantastic place for children of all ages. I have put together some of my favourite places in the Cairngorms to walk with a buggy, with great coffee stops and some good changing areas for new parents.
Things to do in Aviemore with a baby
The big day has finally arrived! The new baby and igloo were in a race against time - who would be born first? Well it was igloo, so instead of putting my feet up I spent my maternity creating this new venture. Anyone who knows me, also knows that it wouldn't be any other way! Today we finally welcome baby Bruan.
The Cairngorm National park has an extensive network of paths, mostly quite accessible with well surfaced paths and great for family days out and adventures.
Loch an Eilean at Rothiemurchus - accessible walk near Aviemore
This is a must - ample parking and space to unload your pram or buggy, the route is a circular walk around the loch, and is approximately 3 miles long. The paths are excellently maintained so there is no need for walking gear, trainers and a waterproof are ample though it may get a bit muddy in places.
The walk is simply one of the best and blockbuster movies have been filmed there for good reason. The tall granny Caledonian Pines provide welcome shelter and really give you a sense of a place unchanged by time. You can really let your imagination run wild if you think of what it would have been like to live in the castle, which sits on a small island in the loch. Small children will also manage this walk, with a little persuasion.
For some well earned reward, pop along to the Druie Cafe, also in Rothiemurchus at the visitor centre. It can get busy so you might not always be able to bring the buggy in, but there is a lobby area at the entrance. Food is locally sourced and of the highest quality, so do stop here for a while. The cafe has high chairs and is great family friendly cafe. The toilets have full changing facilities and are exceptionally clean and well stocked.
The shop is a great place to find some tasty treats to take back to your lodge.
Covid 19 - Rothiemurchus have worked hard to make sure their centre is safe but like anywhere just now there may be restrictions in place.
Loch Insh Watersports - family friendly day out
This is another fantastic place to take the kids for some family friendly walks, play, food and stunning scenery. Loch Insh has a lovely log cabin restaurant and bar with views across the loch. There are good changing facilities and things to do in all seasons, including an enclosed play park, zip wire, dry ski slope and of course, watersports.
If you just fancy a nice walk, there is a nearby path to the Badenoch Way which hosts an abundance of wildlife including deer and red squirrels. Loch Insh has a lovely relaxed vibe, everyone is very friendly and you will certainly enjoy a whole day here.
The Speyside Way - buggy friendly walk
This is one of my most used routes with the buggy as it is close by and really accessible for all. This buggy friendly route takes you off Aviemore Orbital path and takes you towards Boat of Garten, approximately 5 miles away on surfaced paths.
If you are feeling ambitious, a walk to Boat of Garten can be rewarded by a stop at the Gas House or Andersons, and the return journey can be taken by Steam Train. If you just fancy a short walk, you will enjoy the mature Birch Forest which eventually opens up to a Caledonian Pine forest and open moorland. The views of Cairngorm are worth the walk. This is a popular route with walkers and cyclists, so there are always lots of people to say hello to.
The Green Loch - good walk for mountain buggy
A must do and see whilst you are visiting the area - this is a really good walk with a mountain buggy. The Green Loch, otherwise known as An Lochan Uaine, is a gentle and well maintained walk amongst the oldest granny pines in Scotland. On arrival, you are struck by the green appearance of the water, which is fairly shallow. Legend has it that the fairies wash their clothes there.
Accessed by walking from Glenmore Lodge or from the car park to the left of the Hayfield in Glenmore. Finish your walk with a coffee at the visitor centre, The Boathouse or nearby Pine Marten Bar.
Make igloo your choice for a baby friendly Aviemore break
As a mum I know what really makes a holiday for families with young children - all our lodges are family friendly and include everything you need including high chairs and cots with linen. If you have any questions ahead of your stay just let me know and I will be delighted to help.
If you are looking for more holiday ideas for older children - check out our holiday guide featuring Landmark Forest Adventure Park, polar bears at the Highland Wildlife Park and the best soft play areas for a rainy day.
Written by Erin McBean
Director at igloo
Mum of 5
Shared parenting ambassador