Enjoy a Barbeque at your lodge
Igloo's resident foody Jo offers some barbeque inspiration for your next Cairngorm break.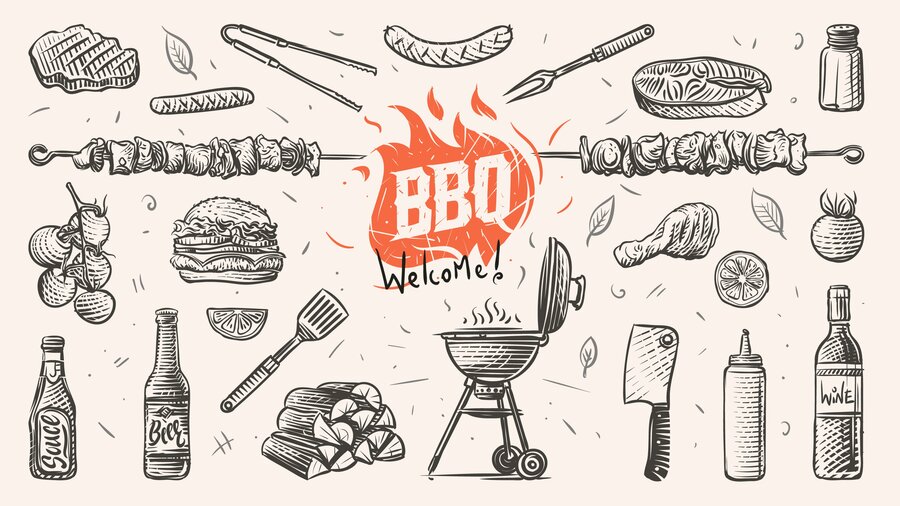 Burgers and sausages will always be a staple of the barbeque but with some of our local suppliers stocking venison it might be the time to add a little difference to your barbeque.
Nothing quite says holidays like a barbeque and with all of our lodges coming equipped with a barbeque - it's the perfect time to get the grill fired up and enjoy. Plus don't be afraid of the elements - barbeques are not just for those perfect sunny days - get the jackets and woolly hats on, start cooking and have fun!
This blog is here to share some tips and tricks for cooking on a barbeque, a couple of recipes and some of our local suppliers, to help your barbeque go without a hitch.
Timing is everything
If you are cooking on a charcoal barbeque light with plenty of time to spare, the cooking heat from the white hot charcoals once the fire has burned down is what you are looking for. To allow for more controlled cooking having more coals on one side and less on the other allows for a hotter and a cooler section of the barbeque.
Making sure all meat products are cooked through is important, bringing all meat up to room temperature before putting onto the barbeque helps reduce cooking time. If cooking larger pieces of meat or cooking lots of food for all your party precooking some pieces in the oven and finishing off on the coals is an option to consider. This makes sure everything is cooked well and saves you spending hours by the coals.
Keeping it simple, making it special
Burgers and sausages will always be a staple of the barbeque but with some of our local suppliers stocking venison it might be the time to add a little difference and Highland twist to your barbeque. Marinades can be used on meat, fish and veg and can add that something special to your barbeque - making sure to shake off the excess marinade before putting on the grill will stop flare ups of the fire which can impart a bitter or acrid taste onto your food.
Barbeque Marinade recipe
This recipe is versatile and can be used for most meat, fish and vegetables.
1 ½ cups vegetable oil.

¾ cup soy sauce

½ cup worcestershire sauce

½ cup red wine vinegar

⅓ cup lemon juice

2 tablespoons dry mustard powder

1 teaspoon salt

1 tablespoon black pepper

1 ½ teaspoons chopped parsley
Mix all of the above together and can be used as a marinade for chicken or red meat, if using with fish and vegetables brush the mixture over the fish or vegetables just before cooking and not leaving to marinade for too long as the acid from the lemon juice and vinegar can begin the 'cooking' process
BBQ Banana Splits
Dessert when BBQing isn't just marshmallows - although in my opinion no barbeque is really complete without toasting the perfect marshmallow (brown and toasty with nearly liquid insides), there are lots of options for a sweet ending on the barbeque.
For a fun dessert with a difference try this recipe for bbq banana splits - these can be prepared in advance and can have a grown up twist with the addition of rum for a little extra kick.
Ingredients
How to
Mix the butter, sugar, treacle and rum if using all together in a bowl.
Make a slice in the inner curve of the banana, cutting through the skin and half way through the fruit.
Use a spoonful of butter to rub inside each of the bananas.
Wrap the bananas in individual foil packages, make sure they are completely enclosed and crimp at the top to ensure no spillages of spiced butter when the parcels are opened Place the parcels directly into the embers of a charcoal barbeque or onto the grill of the gas barbeque for 15 minutes - the bananas should be oozy with caramel goodness and served with a scoop of local Mieles Ice cream it's the perfect way to round off your barbeque.
Butchers near Aviemore
The Cairngorms National Park offers fantastic produce for your Barbeque - so you can opt for local rather than the usual supermarket fayre. Although there is no butcher shop in Aviemore there are other great local options that aren't too far away. Balliefurth farm shop in Nethy Bridge offers BBQ meat packs and lots of other produce from their farm - this can be ordered online and delivered to your lodge.
In Grantown on Spey - Cairngorm butchers offer a wide range of products and friendly helpful service you would expect at a local award winning butcher.
Rothiemurchus Farm Shop offers a range of meats including game from the Rothiemurchus estate - this is a great option if you are looking to get venison as it all comes from their own estate. Their shop has lots of other tasty treats - including cheeses, breads, local spirits and other essentials.
Our Cairngorm Lodges with Barbeques
No matter which lodge you choose you will be able to enjoying barbequing - relax outside Eagle Lodge on the chunky wooden garden table, take in the view of the Cairngorms from the garden at Snowmass lodge, relax on the outdoor dining area at the Maltings or spend a night in The Shambles' very own BBQ hut for the full Scandinavian barbecue cabin experience. All our holiday lodges have hot tubs to enjoy after you cook up a feast on the BBQ.
I hope this gives you some ideas and food for thought. If you have any foodie questions - drop me a message jo@igloo.scot and be sure to check out my instagram account.