The village of Nethy Bridge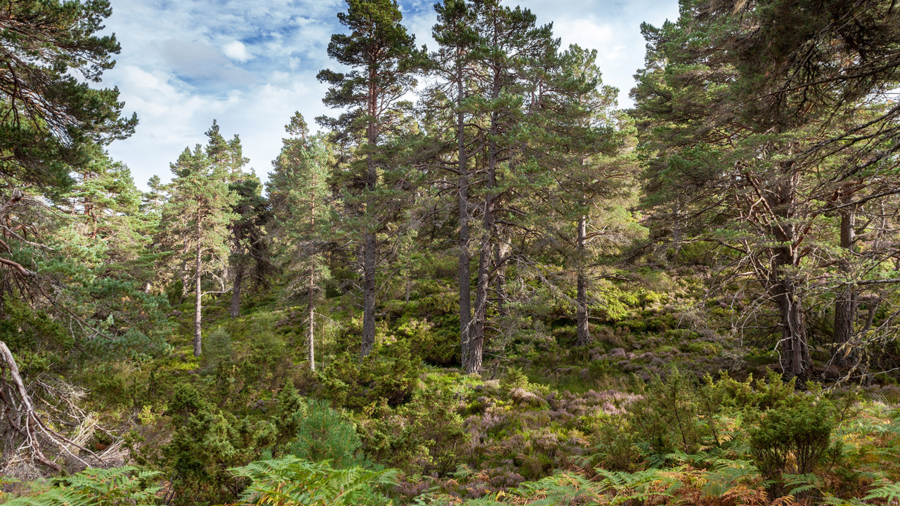 Located between Aviemore and Grantown is the village of Nethy Bridge or just Nethy as locals call it - you will soon see why it is called the Forest Village as the village is nestled amongst ancient woodland. This charming village on the River Nethy is lovely place to visit and offers some nice forest walks in the Abernethy forest and chance to see local wildlife.
Nethy Bridge Station has had it's original name restored to Broomhill Station and the good news is that this station is back in operation as part of the Strathspey Steam railway with a regular timetable that will bring you into Boat Of Garten and Aviemore.
History of Nethy Bridge
Nethy Bridge was once called Abernethy, or Obar Neithich but it was renamed when steam railway travel arrived. Abernethy means the mouth of the River Nethy and as the name suggests the River Nethy meets the River Spey close to the village. Already industrialised by Forestry and Iron Ore production from the Cairngorms, Nethy Bridge was very important locally.
Nethy Bridge was traditionally a foresting village until the era of tourism brought steam rail travel to the Highlands of Scotland. Victorian villas grace the village which was once marketed as a health destination. There are even older settlements of old crofts and mills from a bygone era.
Nethy Bridge Station
The arrival of steam brought some confusion, there were two stations - both called Nethy Bridge Station at one point. There were two lines leaving Boat Of Garten, straddling either side of the River Spey.
Nethy Bridge Station has had its original name restored to Broomhill Station and the good news is that this station is back in operation as part of the Strathspey Steam railway with a regular timetable that will bring you into Boat Of Garten and Aviemore - a walk of about a mile and a half from the village.
The East Side Line is now part of the famous Speyside Way, a walking route that begins in Aviemore and ends in Buckie - don't worry if long distance walking isn't for you, it is easy to walk some of the sections and double back to your starting point.
Nature in Nethy Bridge
The Cairngorm National Park is famous for its Caledonian Pine Forest and you may have seen some of the fantastic species living there on BBC's Springwatch and Winterwatch.
The Abernethy National Nature Reserve is one of the largest remaining parts of the ancient Caledonian Forest - this is a special place with many rare species living there. If you are especially lucky, you might see birds and mammals, including Scottish crossbill, red squirrel, wildcat, red deer, black grouse, crested tit, osprey and capercaillie. Pop past the Nethy Bridge Village Visitor Centre for more information and guides to local wildlife and forest trails.

Attractions in Nethy Bridge
Castle Roy is a Clan Grant Fortress, originally built by Clan Comyn in the 12th century but taken by the Clan Grant in the 1420's. Clan Grant are still the stewards of Castle Roy to this day. If Highland History fires up your imagination - you have many centuries of history to conjure up here. You can do a 3 mile walk from the village that takes in the castle. For a unique gift you can even buy a square yard of the Castle via their website - a fun idea and money raised will be used to build a visitor centre.
If visiting in August - The Nethy Highland Games - are an event not to be missed with fun for all the family. The games are organised by the Nethy Community and it is one of most authentic Highland Games. A chance to experience a tradition which is becoming rarer as time goes on, come and see the community in full Highland swing.
The Loch Garten Nature Reserve is a great chance for your family to get out into nature. If you time it right, you might see the return of the Ospreys from their annual migration. A beautiful sight and very heartwarming considering these magnificent birds have been so close to extinction.
Walking in Nethy Bridge
The Speyside way passes through the village - you can walk to Boat Of Garten or a little further into Aviemore. The views on this route are worthy of the required effort, and if you can't face the walk home, there is always the steam train. Visit Cairngorm have a guide to walks in Nethy Bridge to download.
With acres of ancient woodland to explore and nearby Loch Garten, there are endless amounts of trails on the doorstep. The Dell Woods in the village is part of the Abernethy Nature Reserve and offers gentle trails on the edge of the village and opportunities to follow trails further in the Abernethy Forest. This is a great spot to catch a glimpse of red squirrels.
Shops in Nethy Bridge
Balliefurth Farm Shop is a great place to get quality butcher meat in the Cairngorm National Park - with their farm just along the road. This is a real asset to Nethy Bridge with visitors coming from all over to purchase. The good news for self catering guests is that they have boxes available and can deliver, so go local - it will be well worth it.
Nethy Bridge stores is the village shop and serves as the local post office too - you will likely bump into locals catching up for a blether if you pop in here. For more shops pop along to Grantown on Spey that has a bustling High Street with lots of independent businesses.
Food and Drink in Nethy Bridge
The Nethy Cafe sells great light lunches and bakes, ideal for an afternoon treat or a reward after a long day walking in the Abernethy Nature Reserve. We tried the pancakes and they were delicious!
The Nethybridge Hotel has a restaurant with traditional Scottish fayre and modern classics, and for a more relaxed experience, try the back bar for some dram's with the locals.
A few miles away is Grantown East Station and Highland Heritage & Cultural Centre - this would have been the next stop on the line after Nethy Bridge Station. The old station has been lovingly restored, has information on local history including life in the victorian times, a shop to pick up a unique souvenir and best of all it has a cafe that is set in old train carriages.
It is well worth having food here - it's great fun to be led through the carriages to your table. Specialising in wood fired pizza's - they offer some amazing flavours and toppings. You must save space for a pizza pudding too as they are delicious - and the kids will love them.
How to get to Nethy Bridge from Aviemore
Nethy Bridge is easy to reach from Aviemore, it is 11 miles by car and takes about 20 minutes - follow A95 towards Grantown then head through Boat of Garten and follow the signs. If you are looking to make a day of walking you can do this by following the Speyside way through Boat of Garten. This section of the Speyside way can also be used by cyclists and offers a lovely cycle through the woods away from the busy main road.